"Electrical science has disclosed to us the more intimate relation existing between widely different forces and phenomena and has thus led us to a more complete comprehension of Nature and its many manifestations to our senses."
           

Nikola Tesla
SpectraVision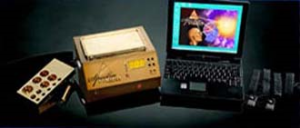 What is SpectraVision?

SpectraVision technology is a non-cognitive biofeedback device which measures and maps the flow of energy in the body from a number of different perspectives.
The SpectraVision examines the organs in each of the major systems of the body (Digestive, Hormone, Immune, and Lymphatic) and pinpoints areas of stress, trauma, and disease.
It is a painless and non-invasive way for anyone to find out more about their current level of health and the body's responses to various energetic stressors, as it meets the daily demands of life.
How does the SpectraVision work

The human body is an energetic organism, and the balanced flow of electrons through the body informs optimal health. When vital life force energy is used for stress management (such as food/substance sensitivities, on-going emotional trauma, and/or ongoing physical symptomology), less energy is available to maintain deeper degrees of homeostasis.
Stress creates interference with your metabolic processes which, in turn, uses up vital force energy and lowers the overall electrical flow within the body. The loss of energy created by continually managing toxic burdens eventually weakens defenses, causing impaired healing and reduced immunity.
The technology behind SpectraVision allows us to measure your body's acupuncture meridians and the stress response to thousands of substances that can be potential factors.
What is unique about SpectraVision technology?

SpectraVision has the ability to truly measure and compare all of the acupuncture meridians in the body simultaneously. It automatically compares all of your body's energy pathways to determine which areas are under stress.
SpectraVision automatically tests for unique stress factors and prioritizes them so that we can focus on addressing the root of your issues first.
This technology is not just used for measuring the physical body, but it can also be used to focus on the emotional and mental stress factors behind a patient's situation or level of health.
What do we do with the results from your scan?

The goal of the SpectraVision is to find the natural remedies and herbal supplements that will balance your acupuncture meridians as well as address your unique stress factors.
Your natural remedies will then be customized specifically for you, based on your personal scan results.
These customized remedies will assist your body in healing and dealing with your unique stressors to regain your body's optimal level of wellness.