Acupuncture
Expert
Care

: The Root Acupuncture
The Lakewood Acupuncture Clinic Rated Number One By YOU
Looking for true and lasting relief from pain, stress, or even emotional uneasiness?
You've found it.
OFFICE HOURS
| | |
| --- | --- |
| Monday | Closed |
| Tuesday | 9:00 AM – 6:45 PM |
| Wednesday | 9:00 AM – 6:45 PM |
| Thursday | 9:00 AM – 6:45 PM |
| Friday | 9:00 AM – 6:45 PM |
| Saturday | 9:00 AM – 1:00 PM |
| Sunday | Closed |
Welcome to The Root Acupuncture
Whether you've been suffering from chronic illness, lingering pain, or just the stress and cares of everyday life, the expert professional care you'll get from The Root Acupuncture will make you feel better and enable you to live with more vitality, energy, and joy.
That's because you won't just get a superficial, quick-and-easy treatment here. You'll receive caring, attentive remedies that get to the very root of whatever ails you… and bring you relief you may have thought you could never find.
Erik Johnson and Zach Young are nationally-certified and recognized teaching experts in Acupuncture and many other modalities of Chinese medicine (as well as other treatments)… but, first and foremost, they are caring practitioners who don't believe in one-size-fits-all treatments.
Maybe that's why The Root Acupuncture was named "Number One" among the area's acupuncturists in surveys by Denver A-List
If you're suffering, make the choice today to live a better, less painful life from this point forward. Reach out to The Root Acupuncture to schedule a no-cost, no-obligation initial consultation.
Let's see how we can tailor just the right approach to make tomorrow, and every day thereafter, much better.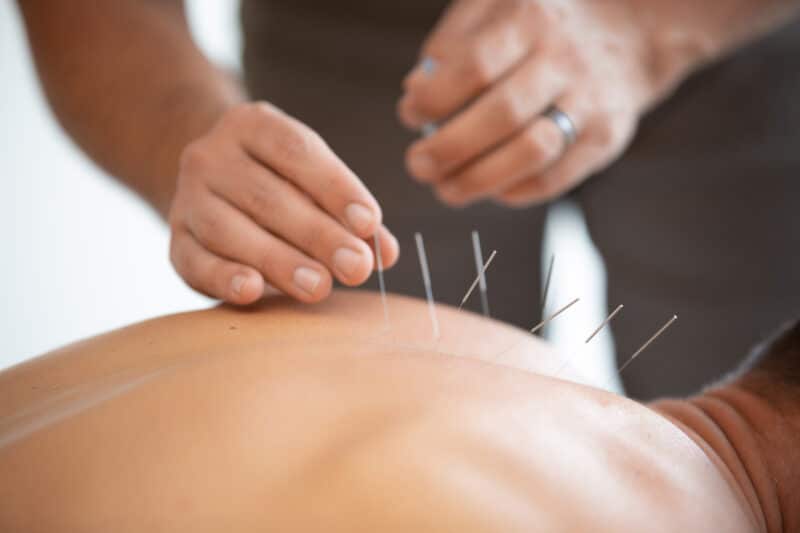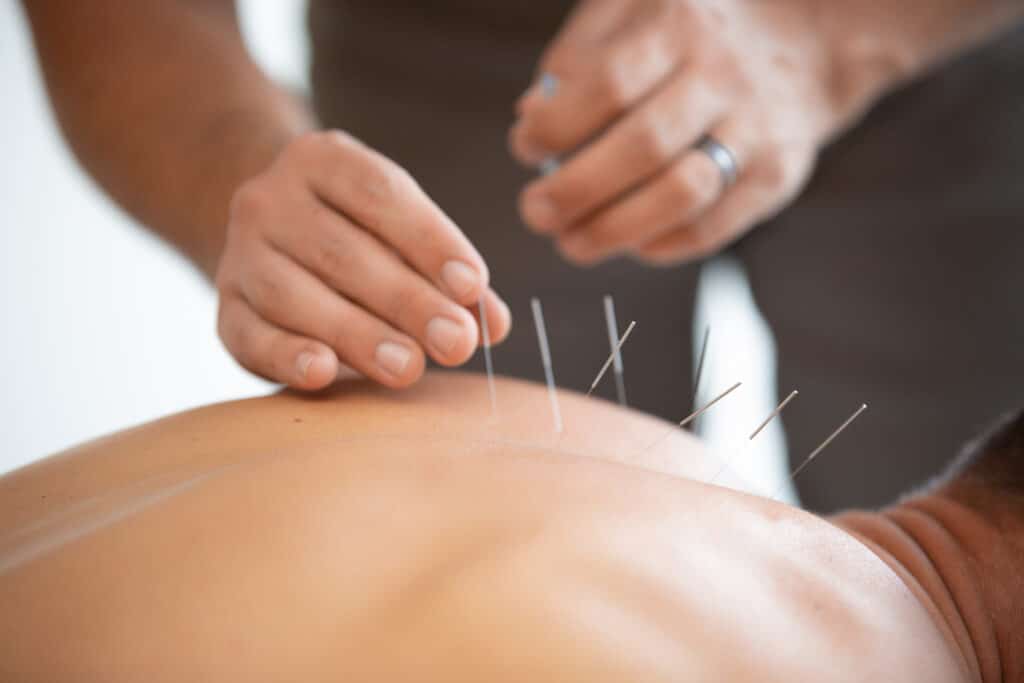 Not Just A "Dry Needling"
Ask some folks if they've had any experience with acupuncture, and if they say they have, it may well be that what they've received is something called "dry needling," performed by their chiropractor, their physical therapist, or another allied practitioner.
That's a form of treatment we do here at The Root Acupuncture, but our technique is far less risky and painful than you will find at other places. What's more, a quick dry needling session at one of those other places doesn't generally get to the root of the problem. We have the luxury of time at our clinic to be able to more effectively release the same tight trigger points and painful areas of the body using things like light electrical stimulation or using the EXSTORE system to quickly access and treat pain patterns. You will find that the combination of tools that we have in our clinic will have your body feeling better right away without the painful side effects of dry needling.
Acupuncture should not be painful. On the contrary, it's one of the best techniques ever devised to treat, reduce, and eliminate pain throughout the body. And that's what our practice is all about.
Unparalleled Personal Attention
Acupuncture, as practiced at some offices, can be a fairly formal and impersonal procedure. There are busy practices in which you're ushered into a treatment room, greeted briefly, had instruments applied, and then you sit alone for a few minutes while the practitioner attends to other patients in other rooms.
There's nothing wrong with that, and patients of such practices generally feel great relief and comfort from the treatments they get. And that's true of many patients who get the same "standard" acupuncture treatment.
While the practitioners at The Root Acupuncture know that their revenue could be greater if they operated their practice in this manner, they would rather take the time to focus on tailored, specific wellness plans for each person, and deliver the kind of personal attention that makes an exceptional patient experience the norm.
At The Root Acupuncture, you're likely to be able to interact with the doctor throughout the majority (if not the entirety) of your 75-minute appointment.
Beyond Acupuncture
The goal here at The Root Acupuncture is overall health and vitality. Acupuncture can take almost anyone much closer to that goal… but some patients need more.
When we think of "acupuncturists," even if the practitioner is also a Chinese herbalist, most often we think of the art and science of applying needle instruments to the body.
But there are many other aspects to eastern medicine that are becoming better and better known as great solutions to our aches, pains and health problems.
We don't typically "stop" at acupuncture… It's quite common that a patient is best served by additional modalities. You won't find a "needle and go" methodology here at The Root Acupuncture.
After all, we want the best outcome for you, specifically (not for "people," generally). We want to create pain-free health and vitality for hundreds of people… not for one "standard" patient we've seen hundreds of times, in the persons of different people!
You can get good relief from acupuncture alone, but when we go beyond acupuncture, you're likely to get much better outcomes for your overall health and well-being.
Here's Where East Meets West…
… And the result is a way out of the pain and suffering you thought you'd never be able to "conquer" using the standard treatments you've experienced before.
When an acupuncturist has a background in Chinese medicine (as most do), there's a tendency to come off as "THE expert," with an approach that' might sound like this:
"Just lay there, and I'll take care of what I KNOW you need."
Erik Johnson and Zach Young don't take that approach. They are learning all the time… and one of the things they are always looking forward to is learning what YOU and your body need that might be outside the traditional or standard approaches to acupuncture.
That's why they take the time to thoroughly explain each procedure, as it's happening, in "translated" terminology that makes time-honored eastern practices easy to understand for those of us who live in our part of the world.
At The Root Acupuncture, we're going to create your program of treatment together, not just dictate what we think you might need.
… And A Relaxed Pace Means FASTER Results
You don't get out of pain by rushing things at the acupuncture clinic… so we take the time to get to know you and your needs personally here at The Root Acupuncture.
You get better results – and sooner! – when you take the time to really listen to your body and give it what it (and it alone) truly needs.
That's why The Root Acupuncture insists on treating one patient at a time – YOU! And they are committed to doing everything they can for you during the time you have together. If your body needs something beyond acupuncture, we'll take care of as much of it as we can during your appointment.
Take a look at our many AVAILABLE TREATMENTS, and you'll see we can take care of just about anything you need.
You'll never get a "one size fits all" treatment at The Root Acupuncture.