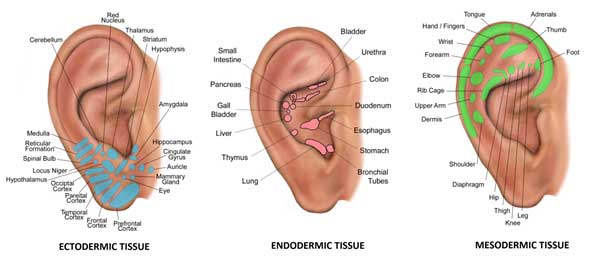 The development of modern auriculotherapy (ear acupuncture) has been one of the greatest acupuncture tools that has helped shape the way that practitioners can treat these particular imbalances in the body. Although auriculotherapy has its historical origins in ancient China, recent discoveries through the work of Dr. Paul Nogier, M.D. of France has grown this treatment modality over the past several decades. Dr. Nogier was fascinated with the ear because this rare organ is comprised of all three embryonic tissues (endodermic, and ectodermic, and mesodermic) and it acts a micro-system to the rest of the body. Through various studies over the years, he helped bridge a gap between Eastern and Western medicine by discovering that the ear had hundreds of specific points that, when stimulated, would cause a reaction in our central nervous system and positively affect corresponding organs, glands, and musculoskeletal systems. Unlike acupuncture body points that have a specific locus on the body that can always be detected, auricular points on the ear can only be detected (through physical examination or electrical conductivity testing) when there is a problem in the corresponding part of the body that relates to that portion of the ear.
How we use Auricular Therapy in our clinic
We primarily use a device called a Point-O-Select at our clinic. This electronic device uses a small probe that we use to lightly touch the surface of the ear and measure the electrical resistance at various locations. We use this information to determine which points in the ear are underactive and overactive, and use the same point-o-select to stimulate the ear points with a mild electrical current (at frequencies specified by Dr. Nogier's research). This outer ear stimulation not only targets the specific embryonic tissue, but it also stimulates the densely supplied nerve endings from the somatic nervous system and autonomic nervous system in the ears. Auricular acupuncture is considered to have a reflexive effect on various organs by regulating the function of the autonomic nervous system and by stabilizing the homeostatic function of the body. In short, think of the ear as a keyboard for the brain – one that we can use to stimulate various organs, musculoskeletal systems, and even specific portions of your brain.
A key component of all auricular therapy is balancing the vagus nerve – the nerve branch in the photo above that is in green. The vagus nerve controls the activity of the autonomic nervous system, which innervates the things that are own auto-pilot in our bodies. A few examples are: the cardiovascular, respiratory, and gastrointestinal systems and it also has an effect on smooth muscles, blood vessels, sweat glands, and the endocrine system. Numerous studies continue to show that a vagal tone can be balanced by using auricular acupuncture and the frequency therapy of Dr. Paul Nogier.